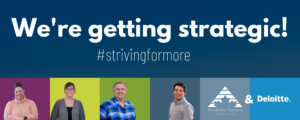 Your needs are changing and we know we need to change along with them. That is why we are striving for more in an effort to help your business thrive!
We have never been ones to rest on our laurels and 2022 is no different. As we look to the future we know we can do more and find better ways to support our clients' and our community's success.
Muskoka Futures is working with Deloitte to help us develop our next strategic plan….but gosh that sounds boring!
What we're really doing is striving to be better for you!
But how do we do that?
We are reimagining how we can support our community and the businesses that make Muskoka so amazing.
We're trying to be creative, innovative and bold in our effort to be a place you know you can come to when business is on your mind.
So what's next?
Well it starts with you! Over the coming weeks and months with the help of the team at Deloitte, we will be reaching out to you through email, phone, social media and in person events to ask for your feedback and ideas on how we can be better, be more for you!
All of this will guide Muskoka Futures in how it delivers…well everything!
Stay tuned for more info in the coming weeks about when to keep an eye out for your opportunity to tell us what you think.
Can't wait? Know you want to have your say? That's great! CLICK HERE and get on the list and Deloitte will reach out.